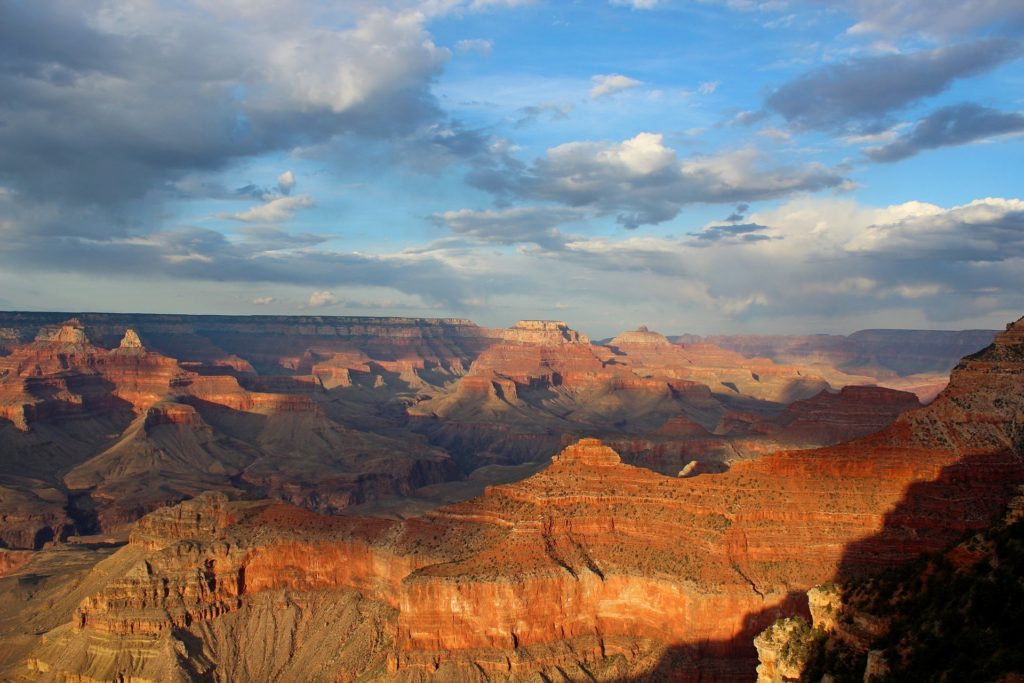 One of the world's wonders is the Grand Canyon, and it is just beautiful. It has a beauty for everyone. The Grand Canyon has been a family vacation spot for many years. You can even see it in many movies where families are all piled into the car and start a long road trip to the Grand Canyon. The Grand Canyon is a big place though, as it is 277 miles long, 18 miles wide and over the mile deep in some places. Just so you can get your head around this, there are multiple helicopter tours that fly inside the canyon at the same time and see the Grand Canyon from above. So let's see if we can give you some ideas of where you might want to go and what you might want to see.
North Rim or South Rim
If it's your first time to the Grand Canyon, or you have children, the South Rim is probably the best bet. There are loads of hotels, restaurants, and other activities to keep you busy. If you don't want to be too crowded, the winter time is good, and personally, we think the winter time is one of the more beautiful times of the Grand Canyon. South Rim is, how should I say it, the more civilized side. The North Rim is only open for a few months of the year and is more peaceful and quiet. It's a lot more scenic and rugged, and more for hikers and views than its more popular South Rim counterpart. The North Rim is also good if you just want to take that quiet romantic vacation where you spend time with your significant other.
Footloose
One of the best places to hike at the Grand Canyon is the Bright Angel Trail. This is a 19-mile hike and a good hike for beginning hikers with frequent places to stop. Having said that, if you do hike this trail in the middle of summer, it is wise to bring extra water and head cover. People underestimate the heat and the sun at the Grand Canyon, and it is something you have to be careful of. If you plan on making the full 19 mile hike, you should prepare to take 2 days to do it.
See it like the birds
One of the most popular ways to see the Grand Canyon, and see it all at once, is to take a helicopter or airplane tour. It will allow you to see things that you cannot see from the ground as well as much more than you can from a hike. Helicopters can fly lower than planes so we suggest you go for the helicopter tour. A good tour guide can point out all the different animals you can see such as elk and deer and make the trip quite exciting, swooping over various areas.
A mulish tradition
Mules have always been a more popular choice than horses in the Grand Canyon. Their sure footedness and stability on more treacherous hills is a lifesaving treasure. We would say if you really want to get the most out of your Grand Canyon experience and to make it memorable, take a mule ride down deep into the canyon where you can stay one or two days before you ride back out. Mules make you feel as if you were riding in the canyon from a hundred years ago.
Testing the waters
There are various different boating trips that you can do along the Colorado River that runs at the bottom of the Grand Canyon. You can go river rafting, take a scenic boat ride or even take kayaks or canoes. Really, there is nothing quite like floating down the Colorado river and seeing the epic steep sides of the Canyon on both sides. It makes you feel so small and that nature so big. Definitely a memory you want to have.
We hope that you enjoyed these travel tips. We really do suggest that you go visit the Grand Canyon, and when you are there, experience as much as you can. One of the things that you must do when you visit that seems obvious, but people forget to do, is to look up at night. With so little light pollution, the area gives you one of the most amazing views of the stars. This alone is worth the trip. We hope you experience the Grand Canyon and love it as we do. Just remember to look up and feel you soul grow, see you there.