If you're planning a trip to Disneyland or Knott's Berry Farm, Garden Grove is an excellent place to stay. Not only is the city convenient to popular family attractions, it's also a vibrant and diverse city offering visitors shopping, entertainment, and cultural experiences unique to its heritage. Here are some tips for your Garden Grove getaway.
Getting Around
Garden Grove is served by the Orange County Transit Authority, which offers a comprehensive array of public transportation options. The public bus and Metrolink systems span Garden Grove and connect it to other communities in Orange County. You can use the convenient online trip planning tool to map your routes to anywhere you want to go. Take advantage of the excellent weekend unlimited Metrolink pass for just $10. Also a bike-friendly town, Garden Grove offers dedicated bike lanes and a municipal bike share program.
Finding Great Lodgings
Image via Flickr by Michael Saechang
If theme parks are on your itinerary, save money by booking with the Wyndham Anaheim Garden Grove, which offers complimentary park shuttles. Properties like the Embassy Suites Anaheim South, Residence Inn Anaheim Resort Area, and Homewood Suites by Hilton Anaheim offer complimentary breakfast buffets and in-room kitchenettes for economical meals and snacks if you're traveling with your family. Harbor Boulevard hotels have convenient access to public transportation.
Don't Miss These Garden Grove Attractions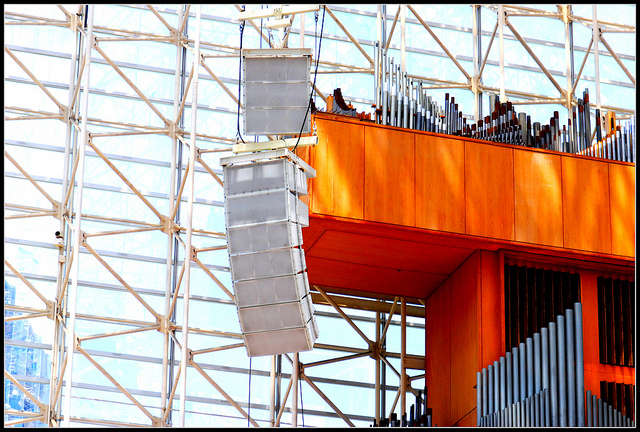 Image via Flickr by Tracie Hall
Garden Grove is home of the Crystal Cathedral, the largest glass building in the world. The Cathedral houses the fifth largest pipe organ in the world, with over 16,000 pipes. There is a beautiful sculpture garden and arboretum where mass is offered daily. Open to the public, this stunning landmark gives free tours at 10 a.m. and 1 p.m. If you're traveling with children, don't miss the Atlantic Play Center, a four-acre whimsical water play area and recreational center replicating the lost city of Atlantis. If your visit falls near Memorial Day, visit the Strawberry Festival, the largest weekend celebration in the western United States.
Best Places to Eat
Image via Flickr by manda_wong
Garden Grove has the second-highest Vietnamese population in the United States, and the cuisine in Little Saigon proves exquisite. Brodard, located on Westminster Avenue, is famous for its nem noung rolls and banh xeo. Go Goo Ryeo is a fun do-it-yourself Korean barbecue restaurant. Enjoy all the garlic and spice you want — there's a mouthwash station in the lav. If fresh, fragrant Thai is your favorite cuisine, Thai Nakorn on Beach Boulevard is an outstanding choice at very reasonable prices. Try sweet and crispy mee krob or the fried pomfret with garlic and chili. For something totally different try The Globe, a Belgian gastropub featuring a huge variety of Belgian beers and favorite dishes like steak frites and coq au vin.
Garden Grove offers a great destination for a weekend getaway or a week-long family vacation. While it's convenient to area theme parks, Garden Grove is also a great place to launch your exploration of other popular Southern California destinations like San Diego using the Metrolink rail. No matter when you visit, you'll always find something exciting to do.