Are you one of the millions heading to America's southern tropical paradise this year? Well, make sure you don't miss any of these must see Florida attractions.
Disneyworld
Opened since 1971 but constantly changing and expanding, Disneyland's east-coast big sister is a massive international draw. This massive them park covers nearly 45 square miles of sunny Florida, housing close to 30 hotels, four amusement parks, two waterparks, seven golf courses, and even it's own shopping mall. The sheer size of this Disney complex is enough to make it one of the worldwide must see Florida attractions. Obviously you won't be alone on your trip so make sure you get your Disneyland Florida tickets before you go.
The Wizarding World of Harry Potter
If Disneyworld wasn't enough theme park for you, or maybe you just a huge Harry Potter buff, Universal Studio's "The Wizarding World of Harry Potter" is definitely one of the must see florida attractions. Universal's Orlando Resort actually features two complete Harry Potter parks and has a life size replica of the Hogwarts Express Train to shuttle guests between them. Other than the countless rides, visitors can also cool off with a refreshingly authentic "butterbeer" or even pick up an interactive wand Ollivander's. So whether you are a Harry Potter super-fan or a newbie, Universal's attention to detail will make this a highlight of your next Florida trip.
Cuban Food
Florida is well known for it's large Cuban population and not surprisingly this means amazing Cuban cuisine. The well known hot pressed ham, pulled pork, swiss cheese sandwich known simply as a "Cuban" is a must taste. Though there is an ongoing debate on which city has the best, Tampa or Miami, why not try both?A strong cuban coffee is also a must try while you are in Florida. Also make sure you sample a  "Frita Traditional" which is Cuban take on the hamburger, which includes french fries inside. So when you plan your trip to Florida, make sure you bring along your appetite.

South Beach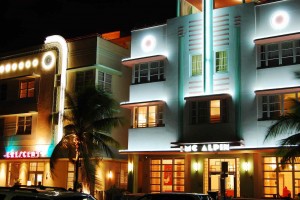 Miami's South Beach or "SoBe" as the cool kids call it, is definitely one of Florida's must see attractions. It's name alone is world known. Famous for its wild nightlife, celebrity hangouts and Art Deco architecture, an ocean side sunset dinner in South Beach is not to be missed on your next Florida trip.
While there are countless other things to do in Florida, I hope this collection of must see Florida attractions offered some inspiration. So make sure you include Florida as a part of your next American trip and if you sprinkle in a few of the before mentioned destinations I promise you won't be disappointed. So what are you waiting for? Bon Voyage!